Lectures
The Richardson Lecture serves as one of America Studies' most important and valuable traditions. Named for our esteemed alumna, Ms. Dora Richardson, the Richardson Lecture takes place at Georgetown annually and involves a speaker on a topic relevant to the discipline of American Studies and the major at the University. The evening of the Richardson Lecture involves a reception following the talk, as a chance for the current students and alumni of American Studies as well as that year's speaker(s) to socialize. Following the reception is the traditional formal dinner for the visiting speaker(s). The evening serves as a cornerstone for the year at American Studies, and the key event for the community to gather on campus.
The 2013 Richardson Lecture in American Studies; American Studies Mosaic shifted from the traditional form of the lecture, and instead gathered together a panel of four American Studies alumni who have all gone onto successful careers in academia back to the Hilltop. The panel, of Dr. Maria Cristina Garcia CAS '82 from Cornell University, Dr. Tiffany Gill CAS '96 from the University of Delaware, Dr. William M. Ferraro CAS '82 from the University of Virginia, and Dr. Brett Mizelle CAS '90 from California State University, allowed the participants to explore the relationship between American Studies at Georgetown and their careers in the academy, as well as the work of American Studies in academia generally, and finally the future of the discipline. The event was a shining example of the crucial role community plays in the American Studies experience at Georgetown with the alumni speakers, students, faculty, and other alumni engaging in dialogue regarding the major.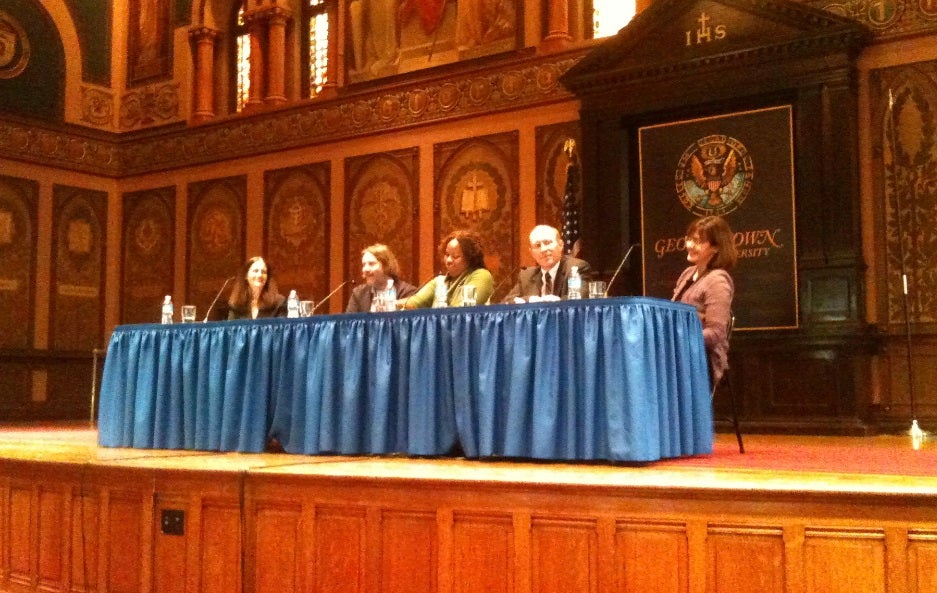 The 2013 Richardson Lecture was held on March 21st in Gaston Hall.
Over the course of the academic year American Studies host numerous speaking events with scholars visiting from around the country and around the world. Most recently we were visited by Professor Doctor Sieglinde Lemke from the University of Freibrug in Germany who gave a talk entitled, "Nikel and Dimed: How America Discovered Working Poverty."
 We are also looking forward to welcoming Professor Doctor Gerhard Hurm from The University of Tier to speak at American Studies in September.