Student Profiles
Meet Our Students
For her senior thesis, Kelly Skeen is examining the career of Mickalene Thomas, a contemporary African-American, gay woman artist. Thomas's work challenges the lack of diversity and inclusiveness in art museums through her provocative portraiture highlighting black women. Skeen says that what makes this an American Studies project and not just art history scholarship is its use of art as a lens to help us better understand the American experience and what it means to "be American."  She argues that Thomas engages in the American ideological behavior of re-invention, taking something old and reimagining it. In many of her most famous works, Thomas revises the works of nineteenth century Modern Masters like Édouard Manet and Gustave Courbet to interrogate gender and racial biases that underlie the original compositions. In the process, Thomas aims to change contemporary notions and ideas about art, the female body, and the black body.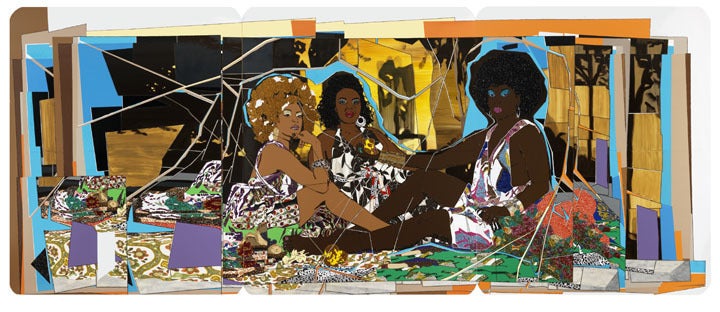 Mickalene Thomas – Le Dejenuer 
---
Alex Mitchell's senior thesis explores how network late night television migrated from the apolitical realm of Johnny Carson's Tonight Show the substantive and political approaches we see today on programs like The Late Show with Stephen Colbert and Late Night with Seth Meyers. Mitchell argues that aspects of news parody almost totally disrupted the chummy, colloquial environment that was the "traditional" late night talk show. To develop this analysis, Mitchell explores how news parody reinvented the mise-en-scene, the joke writing and delivery process, and interviewing styles of late night TV. He drew on the work of other scholars, but he has also interviewed writers who have worked on Late Night with Seth Meyers, The Tonight Show Starring Jimmy Fallon, The Tonight Show Starring Johnny Carson, and Late Night / The Tonight Show with Conan O'Brien. Fallon's writers even invited him to watch a rehearsal and taping. Mitchell also spoke with others involved in late night TV, but he says his most fascinating interview was a one-hour phone call with Dick Cavett. "Cavett had always been a personal hero of mine," Mitchell said, "so to be able to ask him directly about his work was truly a dream come true." Mitchell hopes to someday work in late night TV, and working on this thesis has helped him understand the business and make important connections.
---
Jenna Clifford presented the research that has shaped her senior thesis in Fall 2017 at TedXGeorgetown. In her talk, Jenna shares her research on the educational and aspirational divide between her class members form her hometown community of Lisbon, Maine and those of Georgetown University. Jenna is a member of the Georgetown Scholarship Program and serves as a Senator in the Georgetown University Student Association and as a Research Assistant for the Office of Student Financial Services. Jenna's thesis in American Studies is on the modern American Dream. This talk was given at a TEDx event using the TED conference format but independently organized by a local community. You can watch Jenna's talk here.