Events
Save These Dates
AMST Gathering in Boston
Mark your calendar for a Boston-area American Studies gathering, May 31, 2018.  Come meet  the new Dean of Georgetown College, Dr. Chris Celenza, reconnect with old friends, and make some new connections with American Studies folks. Details of time and location coming soon. If you'd like to be on the mailing list for this event, please email Martha Lawler (Class of 1986).
Celebrating 50 Years of American Studies at Georgetown
Mark your calendars now for Saturday, October 26, 2019! That's the day we'll gather to reconnect with old friends and celebrate the history of Georgetown's American Studies Program. The day will include receptions, tours, discussions, and a keynote lecture and dinner. It's also Homecoming Weekend on campus. We'll be in touch with more details later this year.
We would love to hear from you! Please email us with your most current contact information. 
---
Senior Thesis Presentations
From March 19th to April 11th, seniors from the Class of 2018 in American Studies are presenting their thesis projects. The thesis is one of the most challenging and meaningful components of the American Studies expeirence at Georgetown and we are tremendously proud of the work our students are doing this year!
2018 Thesis Topics and Presentation Schedule
If you're in Washington, DC, presentations are held on Monday and Wednesday, 2:00 – 3:15 in White Gravenor 206! 
---
American Studies goes to The Met
Field Trip, Spring 2018
On February 10th, 2018 a group of American Studies students, faculty, and alumni traveled to New York City to visit the Metropolitan Museum of Art to see their current exhibition of English-born American landscape painter, Thomas Cole's work. The exhibition, Thomas Cole's Journey – Atlantic Crossings showcases the most noted works in Cole's catalog, including The Oxbow and the series, Course of Empire.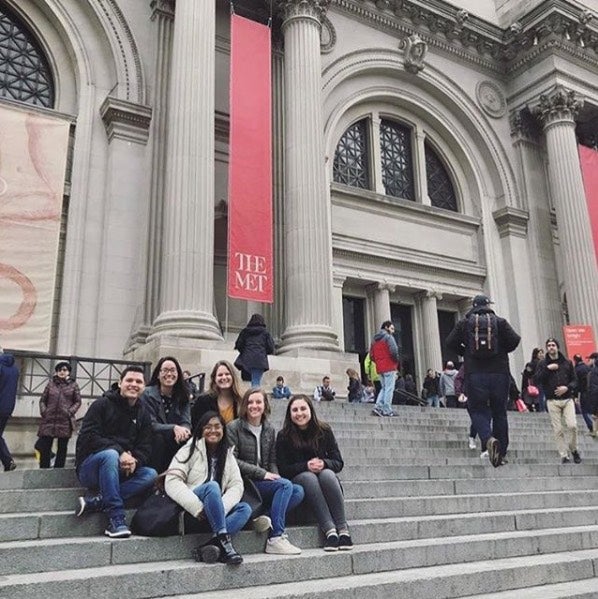 We left Georgetown bright and early at 6:00AM, traveling with 23 sophomores, juniors, and alumni to New York City! We met up with local New York alumni at the Mad River Grille in the Upper East Side for lunch, drink, and reconnecting. We were delighted to have alumni from 5 years of recent American Studies classes, with representatives from 2013, 2014, 2015, 2015 and 2017! The lunch served as an opportunity for our current students to learn about the American Studies experiences of other AmStuds, as they remembered their beloved thesis topics, and even their folkways and bookends projects from CIV II, as well as how they've taken their experience in American Studies and translated their passions and interest into exciting careers!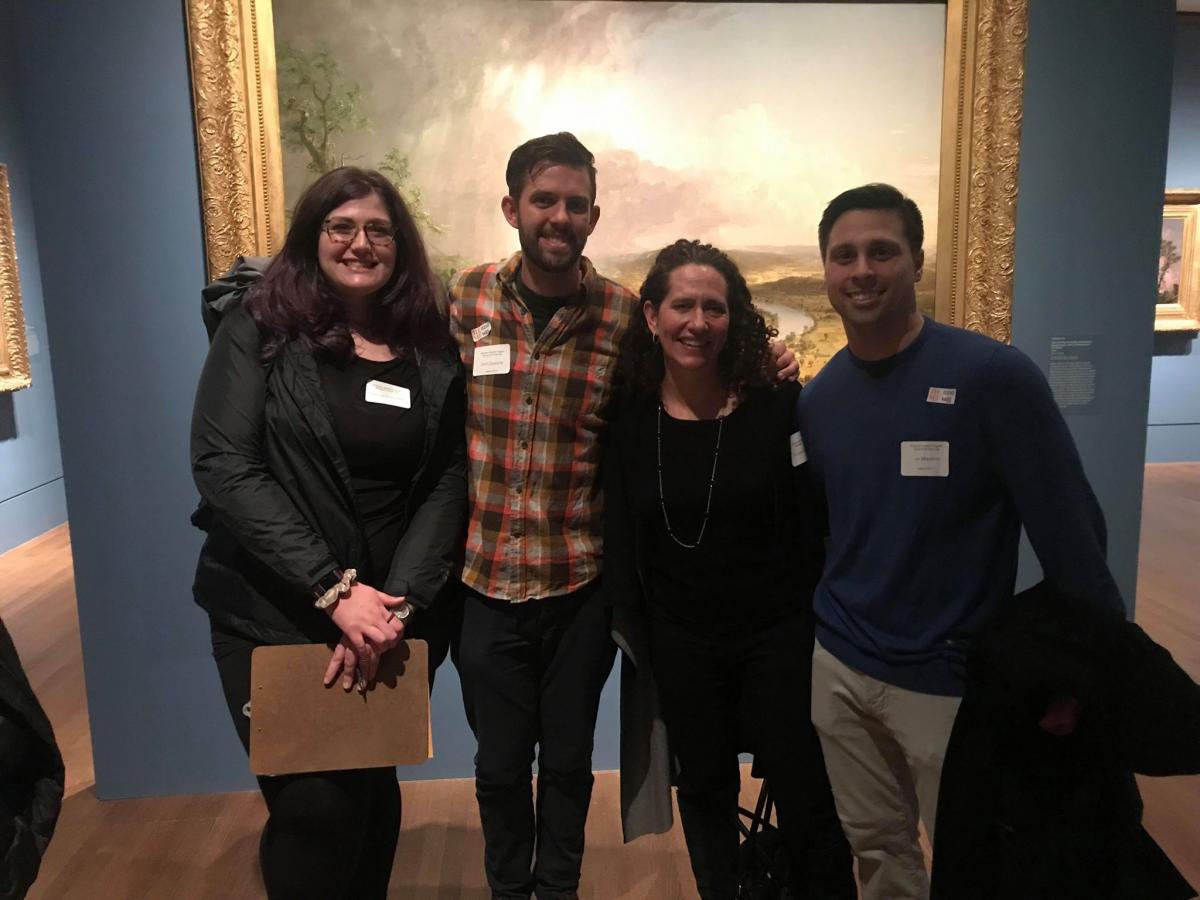 The Thomas Cole exhibition allowed the American Studies Program to learn from the tour guides at the Met about Cole's journey from the United Kingdom to America, his travels in America and the development of his artistic style as he endeavoured to create profound and symbolic reflections of the American landscape and the emergence of the Industrial Age in America. Being able to see these works in person allowed our students to see the true scale, grandeur and feel the emotional impact of the work and its relationship to American history.
(Photos courtesy of Meghan DeCourcey (Class of 2019) and Zack Zappone (Class of 2013) 
---
Dr. Christian Cloke Lectures in American Studies 
On February 21, 2018 Dr. Christian Cloke gave the Georgetown American Studies community a glimpse into the research he has been doing as a post-doctoral fellow at the Smithsonian American Art Museum.  White-Gravenor 206 (the same classroom where his father taught Civ for many years!) was packed with students and faculty from a various corners of the College.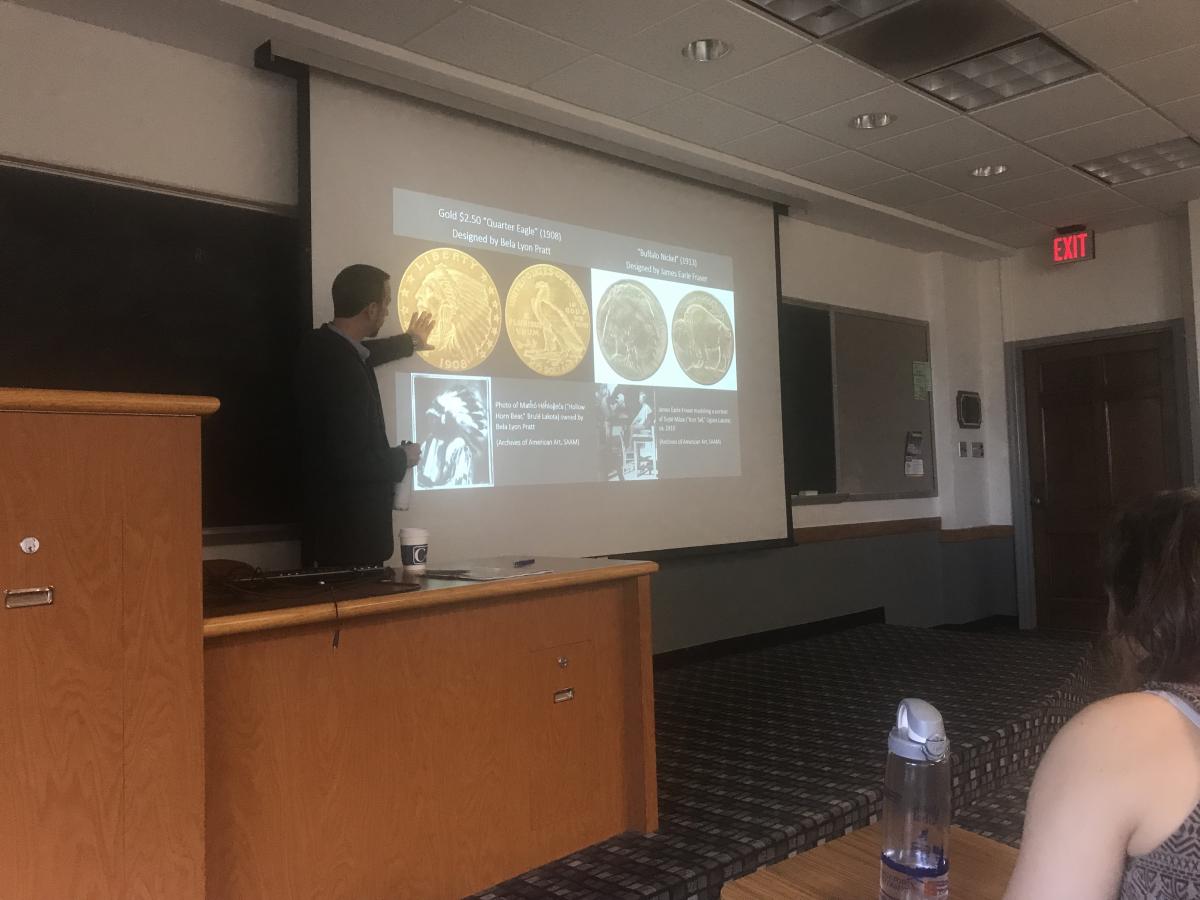 Dr. Cloke's talk focused on ways in which ancient representations of "others" (namely Native Americans and enslaved African Americans) have informed the iconographic language of modern American money. He revealed not only that Greco-Roman values and symbols are deeply embedded in American representations of national identity, but also that many of the racializing and othering tendencies of American national iconography are firmly rooted in dichotomies established by the Greeks and Romans thousands of years ago.  Here are a few things students said in reflecting on the talk:
"Dr. Cloke offered an exciting glimpse into the possibilities that arise from being part of such a vast and interdisciplinary major.  It was American Studies in action."
"I was fascinated that Dr. Cloke was able to make concrete connections between ancient Roman and Greek images and 19th-c. images of African and Native Americans since they are so far removed by geography and time.  I'm thinking about cultural appropriation in very different ways since his talk."
"It was really cool to learn about the ancient origins of the 'Am I Not a Man and a Brother' slogan (and imagery) from Dr. Cloke, and then make the connection the next day in Prof. Seamon's class when we discussed Sojourner Truth's "Ain't I a Woman" speech.  Everything is connecting!"
---
American Studies and Film and Media Studies Trip to Louisiana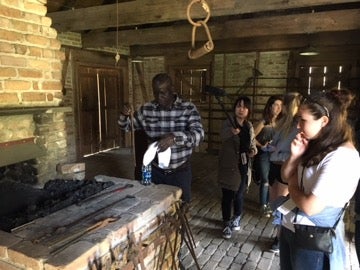 Over Georgetown University Sring Break, Adam Rothman (History, American Studies) and Bernie Cook (Film and Media Studies, American Studies, College Dean's Office) brought students from AMST-272: Facing Georgetown's Past and FMST-399: CBL Social Justice Documentary on an immersive learning research trip to Louisiana.  The group traveled to New Orleans, Baton Rouge, and Maringouin, creating a mobile classroom focused on documentary research and experiential learning.  The Spring Break 2018 visit built upon a prior field research trip to Louisiana lead by Rothman and Cook in spring 2017 and upon a February 2018 day-long visit to the former Jesuit plantations in Southern Maryland.  The joint class engaged the histories of Slavery in America, the 1838 sale by the Jesuits, Louisiana history and culture, the perspectives of the living descendants of the GU272, and the ongoing legacies of slavery in America.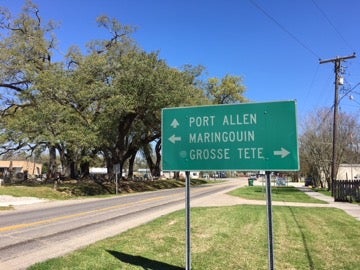 The student participants were Elizabeth Cregan (FMST), William Davis (AMST), Meghan DeCourcey (AMST), Amy Guay (AMST), Kathryn Lenihan (AMST, FMST), Isabella Nairn (FMST), Gary Thompson (FMST), Sindey Wertimer (FMST), and Zhe Zheng (MSFS).  With the exception of Zheng, a graduate student, the class was made up of members of the Georgetown College class of 2019.
Throughout the trip, the students employed the research methods of documentary and oral history to listen closely, to question, to reframe, and to contextualize.  In collaboration with descendants, the students created original media to bring back to their Georgetown classes and to share with their classmates.  Students in both AMST-272 and FMST-399 will workshop the material created in Louisiana for the remainder of the semester, producing short documentary films and podcasts for public presentation in late April 2018.
(Photos and text courtesy of Professor Bernie Cook)